Some opinions and Thoughts on "knowledge synthesis" and "comprehensive ability"
2021-06-21 23:00:01 【pilgrimage370】
Knowledge integration is not " Put a few different colors of wood together ", It's not like " Using statistical thinking XXX" or " How to look like XX Think like a scientist " This kind of thinking . The synthesis of knowledge in my mind is like sunshine , It's made up of seven different kinds of monochromatic light , But it looks colorless 、 It's impossible to distinguish the monochromatic light that makes it up , In reality, people praise sunshine 、 Worship the sun 、 Using the power of light .
I have a copy of Paul on hand . Henry . Lang wrote 《 Music in Western civilization 》, This is a great work about western classical music . however , This book was written before World War II , Written in " modern society 、 Modern research paradigm " Before it came into being . After the war , Great changes have taken place in the research ideas of humanities , such as , Scholars who study culture gradually abandon " The centrism of Western civilization ", Gradually reexamine the problems in their respective fields from a broader and broader perspective .
Again , In the field of classical music , In the early 20th century , Everybody's betting on " The history of music " In this research paradigm , namely , With pancakes 、 and 、 It's like a bun , Forced to cut the history of art development into several sections , And paste it accordingly " The age of romanticism 、 Baroque times " Labels like this .
After the war , This research paradigm in the field of classical music research has been criticized more and more severely , In this social context , This book is written in the period when the study of music dynastic history is in full swing 《 Music in Western civilization 》 And there's a lot of criticism coming . however , In today's , This book 《 Music in Western civilization 》 He is still a masterpiece and scholar in the field of classical music research 、 Music lovers' Desk Book , Why? ?
As the title of the book suggests , In this book, the author does not take the concept of classical music as an isolated field , Then write a book to tell readers what kind of things they have in what age and how they feel about them , The author considers the concept of classical music in a grand framework , That is, the development of the whole western civilization , The reference coordinate system includes contemporary paintings 、 Architecture and other forms of aesthetic expression, as well as the cultural pulse of a specific era 、 Social thoughts 、 Secular life atmosphere, etc .
We know , The concept of modeling , When it comes to wind power 、 Weather forecasting and other complex and multivariable situations , The solution of the problem will become very complicated and difficult . Let's now consider a more complicated thing —— Human life .
We know , Any small matter that people encounter in life, even if it's very humble , Want to give it to the machine , That is to say, it should be presented comprehensively in a scientific and disciplinary way , Next to impossible . Because it's not just about subject knowledge , And it involves a huge number of people 、 The environment and the interactive and dynamic problems between them .
Suppose that for a complex situation a person is facing , There is one. " As omnipotent as God " The ideal optimal solution of . that , If one keeps learning all kinds of knowledge , Including the subject of 、 Living 、 Tangible words and intangible experience , And keep putting it " It's like seven colors mixing to form sunlight " equally , Comprehensive processing 、 Achieve mastery through a comprehensive .
that , I think that the process of this person is the infinite approximation of the ideal optimal solution . This also explains why people who are older in real life have a variety of disciplines and knowledge backgrounds , Good ability to solve general problems .
This extends to the scope of team and organization building . Because one's energy is limited 、 Opportunities are limited , But also faced with the interference of highly accidental factors from their own life , The track of development is ever-changing , There is no such assumption in reality " The ideal person ". Just like you tell children to study hard , Teach him the right science 、 The method tested by practice , But he may not be here 30 Years later, he became an expert in the field . People are uncertain , But the problem is certain , It exists objectively and needs to be solved . So in the context of team problem solving , Can we avoid the situation that the growth and development trajectory of the team is highly uncertain similar to that of different people , To keep the organization moving forward ?
namely , In terms of teams and organizations , Whether we can obtain the infinite possibility of this kind of good aspect similar to human development to the greatest extent , At the same time, it can reduce the influence of reality contingency factors 、 Breaking down structural barriers ?
If you think of teams and organizations as pastures with lots of cows , In the eighteenth century , People will use tin barrels to harvest the milk of cows every day ( Gain people's expertise and contribution ), A supervisor will be chosen , Urge everyone to see what's in each other's bucket , Avoid building cars behind closed doors . Modern pastures in the world today , People will eat grass when cows are happy , Take out the milk with an automatic rubber suction cup , Finally, the rubber hose automatically converges into the large tin cans in the workshop , No one intervened in the whole process .
On the subject of organization building , Can we design a mechanism from the pattern , Instead of our traditional 18th century approach to team and organization building ?
remarks :
This article is excerpted from myself 20210527 Diary , The content of diary is original
Diary writing will avoid " Extract 、 Adaptation 、 Comment on news and books ", It's usually a fantasy , Type in the chat box of wechat file transfer assistant temporarily , After finishing the text in the diary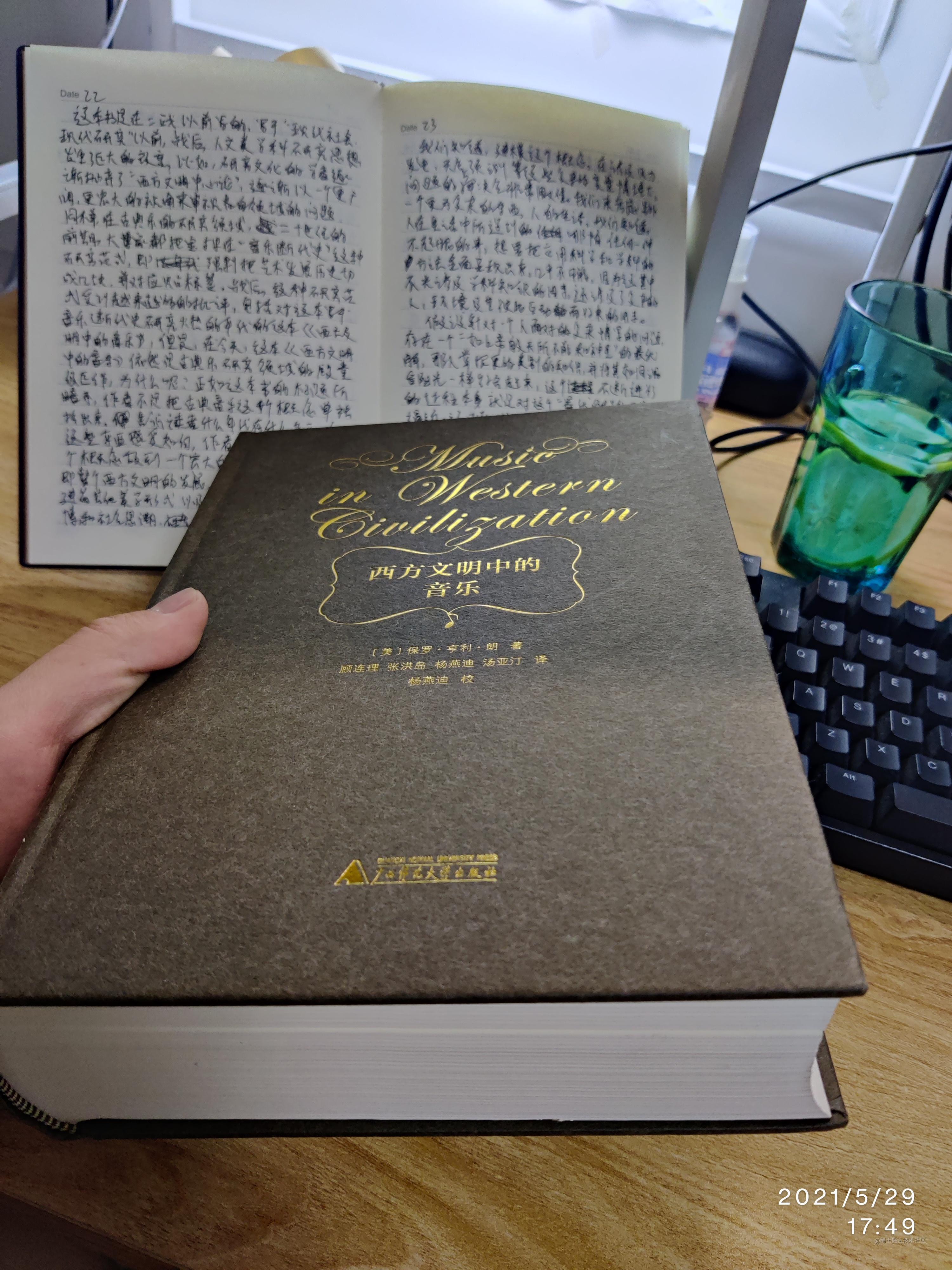 I have 《 Music in Western civilization 》 Original book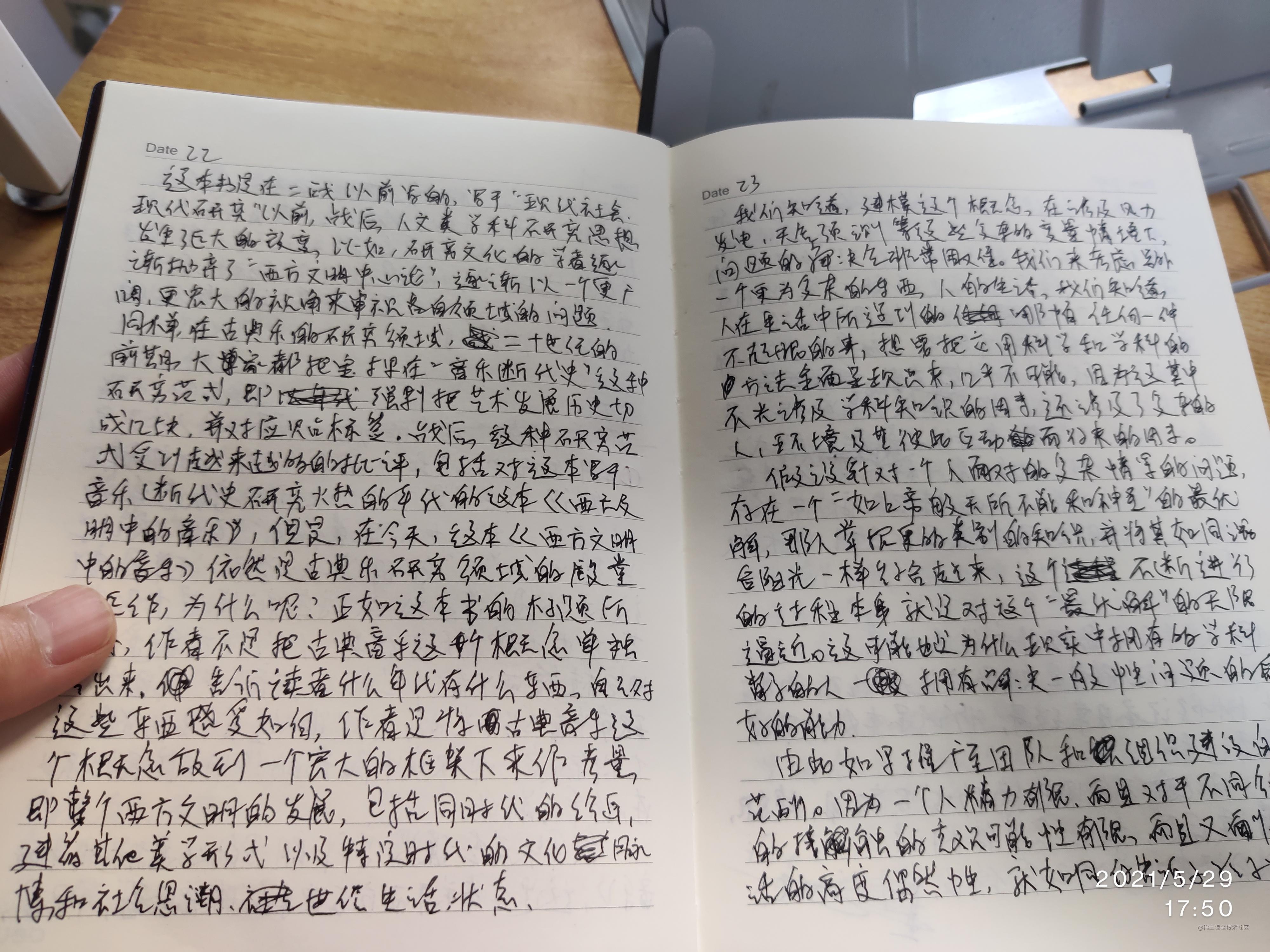 Diary manuscript
版权声明
本文为[pilgrimage370]所创,转载请带上原文链接,感谢
https://chowdera.com/2021/05/20210531204807352q.html