To solve the problem that the data interface is not updated after WPF binding set
2020-11-06 21:30:04 【Irving the procedural ape】
5 Line code , Can let wechat small program on the shelf to their own APP in | Register and send it to Dajiang 、 Huawei 、 Cherry keyboard !>>>
solve WPF After binding the set, the data change interface does not update
solve WPF After binding the set, the data change interface does not update
Independent observers 2020 year 9 month 9 Japan
stay .NET Core 3.1 Of WPF The program is intended to use ListBox Binding displays a collection ( Just meet the demand , It doesn't matter what kind of set ), Here are Xaml Code ( Just a glance , It's not the point of this article ):
<

ListBox

 

ItemsSource

=

"{Binding SipRegistrations, Mode=OneWay}"

 

SelectedValue

=

"{Binding SelectedAccountBinding, Mode=OneWayToSource}"

> <

ListBox.ItemTemplate

>  <

DataTemplate

>   <

TextBlock

 

Text

=

"{Binding SIPAccount.SIPUsername}"

></

TextBlock

>  </

DataTemplate

> </

ListBox.ItemTemplate

></

ListBox

>
ViewModel There's a set of targets in , The present is a List.
There are two ways to implement property change notification , First, use. PropertyChanged.Fody, Second, use custom binding base class BindableBase, Here's the picture .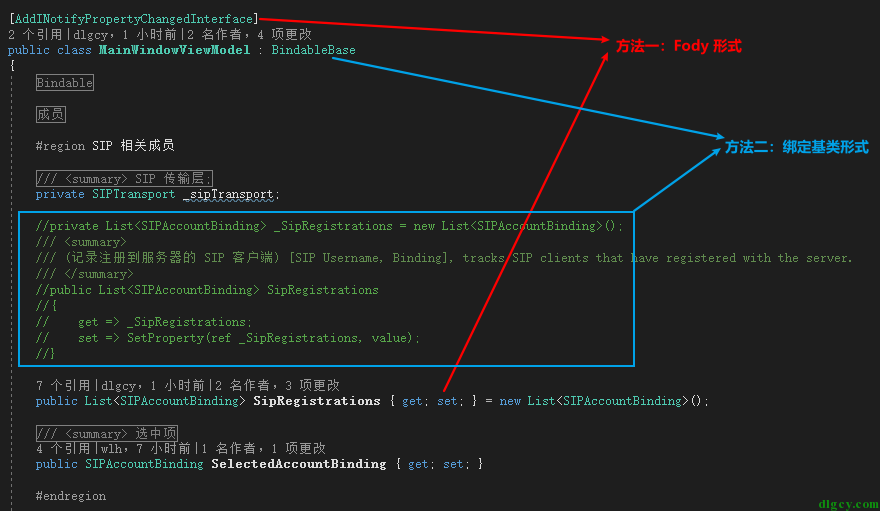 The following is mainly about data changes ( Collection adds content ) after , There is no problem of updating the front desk interface . To be specific ,List.Add after , The first time it worked , But then it doesn't work , The interface always displays only one piece of data .
original ( No effect ):
SipRegistrations.RemoveAll(

x

 => x.SIPAccount.SIPUsername == sipAccount.SIPUsername); 

//  Remove duplicates ( If any )SipRegistrations.Add(binding); //  Add a new item 
Guess because List There is no change in the citation of , So it's thought that the attribute hasn't changed , And then there is no change notice .
In fact, this situation requires notice of change , The recommended use is ObservableCollection:

But I used it before ObservableCollection No success , Instead, use List Yes. , So let's take a look at it first List How to solve it .
Variant one ( Debugging has a chance to have an effect ):
/

/ Add contacts to the collection and handle interface binding ;SipRegistrations.RemoveAll(x => x.SIPAccount.SIPUsername == sipAccount.SIPUsername);List<SIPAccountBinding> tempList = SipRegistrations; /

/ Temporary assembly ;SipRegistrations = new List<SIPAccountBinding>();  /

/ The target set is set to empty first ;tempList.Add(binding);         /

/ Temporary collection adds new items ;SipRegistrations = tempList;       /

/ The temporary set is assigned to the target set ;
Variant one uses temporary variables as a transit , Force the target set ( References to ) Change , But the result is that only in debugging with a very small probability of success .
Because this part of the code is in asynchronous logic , So it could be in a multithreaded environment , and List Not thread safe , So there's variant 2 of the lock version .
Variant two ( No effect , It should be similar to variant 1 ):
It doesn't work with a lock ( But locks are needed ), I think of , Since there is a chance of success when debugging , So is it related to the speed of code running ? So a thread sleep is added between the target set's null and its reassignment , You can really , This is the following Variant 3 .
Variant three ( Effective ):
lock

 

(_lockOb.........
版权声明
本文为[Irving the procedural ape]所创,转载请带上原文链接,感谢